---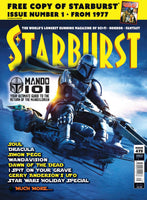 Limited Stock!
Celebrate THE MANDALORIAN with a mammoth 101 things that you need to know about the series, the characters, and Season 2. We also stay in a galaxy far, far away for a fun look at the disaster that was THE STAR WARS HOLIDAY SPECIAL. Why was it only shown once? Why does George Lucas want every copy destroyed? Find out here!
Also featured in this issue:
Interview with SIMON PEGG and NICK FROST about their new series TRUTH SEEKERS
Interview with SCOTT REINIGER and JIM KRUT about working on George A. Romero's classic DAWN OF THE DEAD
Interview with CAMILLE KEATON and JAMIE BERNADETTE about being part of the I SPIT ON YOUR GRAVE franchise.
50th anniversary retrospective of UFO
An exploration of PAGANISM ON SCREEN
Plus lots more from the worlds of SCI-FI, HORROR and FANTASY!