---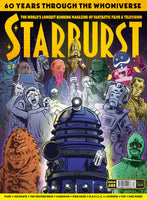 STARBURST celebrates DOCTOR WHO on the eve of its 60th anniversary with an exclusive art cover paying homage to our favourite villains; a fun-filled, trivia-packed 24-page guided tour through each and every year of the programme's unparalleled legacy; and - because our magazine shares the same dimensionally transcendental traits as a certain blue box - MORE!
Also in this issue:
- Industrial Light & Magic visual effects supervisor Jay Cooper gives us an insight into the making of Gareth Edward's Rogue One follow-up, THE CREATOR.
- Legendary director JOE DANTE revisits the oft-ignored Small Soldiers in honour of its big anniversary!
- As they prepare to unveil new Chicken Run and Wallace & Gromit movies, AARDMAN ANIMATIONS' Andy Symanowski takes us behind the scenes of the Oscar-winning studio.
- From Star Wars: The Force Unleashed to The Clone Wars, Rebels, and Solo, actor SAM WITWER has been a mainstay of the franchise for 15 long years, and joins us here to share his war stories!
- Horror Obscura examines '70s cause célèbre, SNUFF.
- Eighties genre icon DIANE FRANKLIN reveals all about her cult film career and previews her acclaimed new short, Pareidolia.
- Samuel Bodin, the director of the creepy new horror movie COBWEB, spins us a tale about how they made the hit horror film.
- With a new film arriving to wrap up the series, we speak to Jackson Publick and Doc Hammer, the creative team behind the acclaimed animated comedy, THE VENTURE BROS.
- We dust off our toy box to bring you the complete history of the '80s phenomenon M.U.S.C.L.E.
- As the stage play The Ocean at the End of the Lane continues to wow audiences across the country, we go backstage with the people who brought it to life, including the story's author, NEIL GAIMAN himself.
All this and much, MUCH more! (We weren't kidding when we said we're the print equivalent of the TARDIS!)
Let THE WORLD'S LONGEST RUNNING MAGAZINE OF FANTASTIC FILMS & TELEVISION shape your entertainment habits over the coming months with the latest edition of our Premium Quarterly, available now while stocks last!