---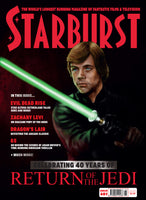 Join STARBURST and a host of special guests as we celebrate RETURN OF THE JEDI's upcoming 40th anniversary with a collection of articles looking back at the beloved movie!

Also in this issue:

- EVIL DEAD RISE star Alyssa Sutherland spills her guts on the making of the latest addition to the classic horror franchise!

- Filmmakers Scott Beck & Brian Woods discuss their new dinos vs Adam Driver sci-fi thriller, 65!

- Go behind the scenes of Troma's latest exercise in bad taste as writer/director Liam Regan tells us all about EATING MISS CAMPBELL!

- Director Andrew Legge joins us to discuss his fantastic new indie time-travel movie, LOLA!

- Zachary Levi and director David F. Sandberg talk super-sequel, SHAZAM! FURY OF THE GODS!
- The arcade classic DRAGON'S LAIR gets the retrospective treatment ahead of its milestone anniversary this year!
- SHIN ULTRAMAN's upcoming UK release prompts us to take a look back at the origins of one of Japan's most iconic superheroes!
- TELEPHEMERA brings you the story behind one of the most unforgettable short films ever made, TOO MANY COOKS!
- In honour of the mighty COCAINE BEAR's box-office takedown, we present our comprehensive guide to other 'Animal Attack' movies!
- We take a look at the horrifying works of manga legend Juni Ito!    
- As the Academy Awards approach, the brilliant minds behind RRR's Oscar-nominated song NAATU NAATU, M.M. Keeravani and Boloy Kumar Doloi, talk to us about its inception!
- HORROR OBSCURA returns with 'The Strange Case of Al Adamson'.
All this… and much, MUCH more!

Let THE WORLD'S LONGEST RUNNING MAGAZINE OF FANTASTIC FILMS & TELEVISION shape your entertainment habits over the coming months with the latest edition of our Premium Quarterly, available now while stocks last!