---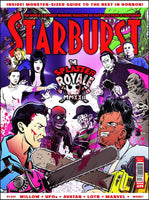 STARBURST welcomes you to THE SPLATTER ROYALE MMXXII, the all-star horror event that sees the genre's finest duke it out for dominance over 13 specially-themed deathmatches! From top TV to killer collectables, the vilest video games to the most sinister of snack foods, our fright-filled cover feature has something for EVERY horror fan!

Once you've survived THE SPLATTER ROYALE, over 100 more pages of astonishing content awaits your eyeballs, covering everything from upcoming releases - such as AVATAR: THE WAY OF WATER, THE LAST OF US, WILLOW, and a complete guide to the future of THE MARVEL CINEMATIC UNIVERSE - to cult classics like DRACULA A.D. 1972, PINK FLAMINGOS, and more!

Let THE WORLD'S LONGEST RUNNING MAGAZINE OF FANTASTIC FILMS & TELEVISION shape your entertainment habits over the coming months with the latest edition of our Premium Quarterly, available now while stocks last!