---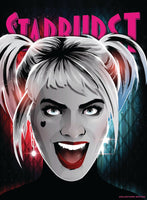 [Special artwork cover previously only ever available to STARBURST subscribers! Limited stock left!]
In this issue...
...we look forward to the return of Margot Robbie's Cupid of Crime in Birds of Prey And the Fantabulous Emancipation of One Harley Quinn. Find out all you need to know about the beloved character and what to expect from the film.
ALSO:
Interview with writer/director Robert Eggers on The Lighthouse
Interview with Star Trek iconic George Takei
Interview with Richard Stanley on Color Out of Space
Interview with cult filmmaker Takashi Miike on First Love
Interview with the showrunners of Netflix's Locke & Key
Interview with anime legend Makoto Shinkai on Weathering With You
PLUS: all your favourite COLUMNS, NEWS, REVIEWS and much MORE from the worlds of SCI-FI, HORROR and FANTASY!