---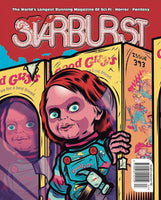 LIMITED STOCK!
In this issue of STARBURST Magazine...
...We countdown to the return of a horror icon in the upcoming Curse of Chucky! Creator Don Mancini and star Fiona Dourif take us behind the scenes of the new movie, while filmmaker Tom Holland explains what it was like to introduce audiences to the diminutive serial killer 25-years ago in 1988's Child's Play + The devil doll's blood-drenched back catalogue is explored, including his many off-screen adventures, and we cast our eye over the entire demonic toy trope itself. Hi-de-ho!
ALSO: We give you the lowdown on Thor: The Dark World and kick off our two-part comic book history of the God of Thunder + Robin Hardy talks to us about The Wicker Man: The Final Cut + Horror Obscura escorts you through the sordid world of Joe D'Amato + Our look at the Nazi/Zombie subgenre concludes with Frankenstein's Army + Learn the secrets of the eagerly awaited second season of Arrow + Take a bite out of the increasingly absurd killer shark subgenre in honour of Sharknado's DVD debut.