---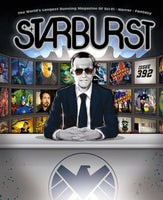 LIMITED STOCK!
In this issue of STARBURST Magazine...
...we celebrate the Marvel Cinematic Universe's first foray into TV with Agents of S.H.I.E.L.D. - uncovering the secrets of the show, scrutinizing the shadowy organisation's comic book origins and looking back at the rather ropey early attempts at bringing their world (and their fellow heroes) to our screens.
ALSO: We chronicle the life and times of genre legend Rondo Hatton in the latest Horror Obscura; begin our two-part exploration of cinema's unhealthy obsession with the 'Zombification of Hitler's Third Reich'; go on the trail of The Wicker Man; allow writer/director Shane Carruth to explain the haunting Upstream Colour; catch up with Renny Harlin to talk about his career and latest movie, The Dyatlov Pass Incident; get the lowdown on Chilean filmmaker Nicolas Lopez and his outrageous earthquake thriller, Aftershock; and quiz Sharni Vinson on her starring role in one of the best horror films of recent years, You're Next.