---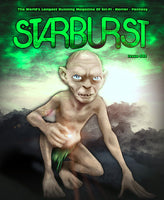 LIMITED STOCK!
In this issue of STARBURST Magazine...
...we celebrate Peter Jackson's return to Middle-earth with his eagerly awaited Hobbit trilogy, exploring the legacy of Tolkien's work beyond its literary roots – from long-forgotten movie adaptations, video games, and Leonard Nimoy pop curios, no Hobbit hole is left unexplored! (Actually, that might need rephrasing…)
Also: We catch up with cult director Frank Henenlotter to chat about his 1982 classic Basket Case; ask Barry Sonnenfeld what the hell went wrong with Men in Black II; and discuss killer clowns with Stitches helmer Conor McMahon. The careers of genre legends Curtis Harrington and Ray Harryhausen get the retrospective treatment; Terror Vision guides us through the history of horror on TV; and we bid farewell to Twilight by completely ignoring Twilight and instead debut Part 1 of Hammer and the Stake, a look back through the studio's rich vampire back catalogue!